Last Updated on: 16th April 2023, 06:17 am
Tooth Gems, piercings, or jewellery (jewels) placed in the teeth were used by the ancestors in many cultures from the ancient Mayan civilization to the current area of Central America and Southeast Asia. It was a sign of power, hierarchy, and beauty. In the last decades, approximately since 1980, famous people have rejected the fashion trend of using jewels in piercings on different parts of the body; however, for some years now, the use of precious stone and metal tooth inlays as jewellery has been on the rise.
People who opt for these procedures look for the brightness in their perfect smiles and as part of their image on social networks. The designs range from something very simple to very large pieces that completely cover the tooth.
However, behind all the glitter is a procedure that makes us wonder. How does the jewel or jewellery stick to the tooth? How long does it last? Is it safe? Does it affect my dental health? It is a way to express personality, power, or dominance and improve self-esteem. We are well-advised not to run the risk of losing teeth even though we covet a perfect smile.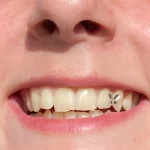 What are Tooth Gems
They are small jewels that adhere to the tooth surface by means of an adhesive. Some can be simple and placed in any area of ​​​​the tooth, while others cover the tooth completely. There are also complete metallic dental covers.
Some of the most common tooth gems that can be found in different sizes are
Diamonds

Crystals

Rubies

Sapphires
On the market are many more ornamentation processes that people have performed on their teeth made of gold, silver or platinum – sometimes precious crystals, rings, and dental tattoos among others.
How are these Tooth Gems Applied
This procedure should be performed by an experienced, trained dentist, preferably someone in the field of cosmetic dentistry. They will clean the tooth surface and then place a cement-like product on the flat base of the gem so it adheres to it. 
The procedure is neither painful nor invasive. The jewel remains fixed like dental braces that adjust the bite or align teeth. The duration will depend upon the oral hygiene carried out. Note that the procedure is semi-permanent.
This process includes the application of specific products on the dental enamel and special equipment, such as lamps to fix the jewel. Drilling of the tooth is not recommended under any circumstances since irreversible damage could weaken the tooth. Complications associated with any oral perforation include inflammation, bleeding, infection, chipped or damaged teeth, gingival recession, and lacerations/scars, among others.
What are the Risks and Complications of Tooth Gems
The main negative effect of these procedures is localized demineralization of the tooth at the gem application site, damaging tooth enamel and affecting oral health while it increases the possibility of gum disease and tooth decay.
On the other hand, the chemicals used to set the gem could be toxic, which is one of the reasons to go to an expert. Keep in mind that having jewels in the teeth can prompt an accumulation of food and debris after eating; therefore, brushing must be stronger and more frequent.
Other potential risks and complications include:
Tooth Sensitivity

Allergic reaction

Chipped or damaged adjacent teeth

Enamel wear or abrasion

Gum swelling or recession around the jewellery

Damage to your lips if jewellery rubs against them

Tooth decay due to poor brushing

A bad odor in the mouth

Infection in the mouth
In addition, the process of preparing and conditioning the tooth for drilling often permanently changes the tooth's surface. When complications are not treated in time or the gem is not removed, gum diseases such as gingivitis, periodontitis and even dental infection could occur as a result of poor oral hygiene. For this reason, the use of oral jewellery for a long time is not recommended.  
When Should We Put Tooth Gems
Many people make use of these dental gems to improve their self-esteem since a deficiency of minerals, or excess consumption of spices and/or condiments causes stains. These jewels or gems are placed in stained places to hide or disguise imperfections and therefore display a healthy smile. They can be used when the teeth are not aligned, or the distribution of the space between them is irregular. They are often used to fill these spaces.
Although it is expensive, this helps the patient to have a better image and feel more secure, such as when attending an event. Being temporary, it is minimally invasive, painless, and easy to remove, provided it is carried out by a specialist.
As a general recommendation, it is vital to maintain oral hygiene. Consult educational programs and/or recommendations provided by your treating dentist, especially those related to the management and care of dental jewellery or gems. Learn the possible short-term and long-term complications associated with the gems used.
It is very important that you never remove the gem on your own. This could lead to irreversible and possibly painful side effects; It should always be done by a professional dentist.
Contact Us
If you have any questions about this or other topics, you can contact us at Channel Island Family Dental as well as our Facebook page. We look forward to your visit, and we will make a timely diagnosis. Our dentists in Oxnard, Saint Paula, Venture, Newbury Park, and Port Hueneme will be able to guide you toward the best treatment to take care of your health and give you back your best smile. 
Bibliography
1. Bhatia S, Arora V, Gupta N, Gupta P, Bansal M, Thakar S. Tooth Jewellery- Its Knowledge and Practice Among Dentists in Tricity, India. J Clin Diagn Res. 2016 Mar;10(3):ZC32-5. doi: 10.7860/JCDR/2016/18578.7441. Epub 2016 Mar 1. PMID: 27134997; PMCID: PMC4843382. (accessed on Sep 08, 2022). Available on: https://www.ncbi.nlm.nih.gov/pmc/articles/PMC4843382/2
. Parimoo R, Singh B, Sharma D, Sharma V, Javaid A. Oral Ornaments: An Overview. Int Health Res J. 2020;4(6):143-147. https://doi.org/10.26440/IHRJ/0406.09359. (accessed on Sep 08, 2022). Available on: https://ihrjournal.com/ihrj/article/view/359/770
3. Bhatia, Sonal; Gupta, Nidhi; Gupta, Drpreety; Arora, Vikram; Mehta, Nishant. (2015). Tooth Jewellery: Fashion and Dentistry go Hand in Hand. Indian Journal of Dental Advancements. 7. 263-267. Doi: 10.5866/2015.7.10263. (accessed on Sep 08, 2022). Available on: https://www.researchgate.net/publication/301593903_Tooth_Jewellery_Fashion_and_Dentistry_go_Hand_in_Hand
4. Marks, Julie; Archibald, Jennifer DDS. What Exactly Is a Tooth Piercing? Healthline (Internet). Review Mar 06, 2020, (consulted on Sep 08, 2022). Available on:  https://www.healthline.com/health/tooth-piercing#takeaway
5. Department of Scientific Information, Evidence Synthesis & Translation Research, ADA Science & Research Institute, LLC Oral Piercing/Jewelry. American Dental Association (ADA) (Internet). Review August 25, 2022 (accessed on Sep 08, 2022). Available on: https://www.ada.org/resources/research/science-and-research-institute/oral-health-topics/oral-piercing-jewelry