Last Updated on May 22, 2023 by Dr Gustavo Assatourians DDS
As a parent, you want to ensure your child's overall well-being, including their dental health. One common dental problem in young children is baby bottle caries, also known as early childhood caries or baby bottle tooth decay. In this article, we will discuss the causes, symptoms, and prevention of baby bottle caries.
The eruption of the first deciduous teeth in babies occurs approximately during the first six months. At this time, complementary feeding in addition to breast milk begins, as well as the use of a bottle with formula for more extended periods of time, either by the number of ounces they require to cover their nutritional needs or used by parents or caregivers to reassure children during daily hours. 
Feeding the baby from 0 to 6 months – CCM Salud, means that these deciduous teeth are continuously exposed to drinks or foods containing sugars and can be damaged in their external structure due to tooth decay. Bottle Tooth Decay – American Dental Association (mouthhealthy.org).
What are bottle caries?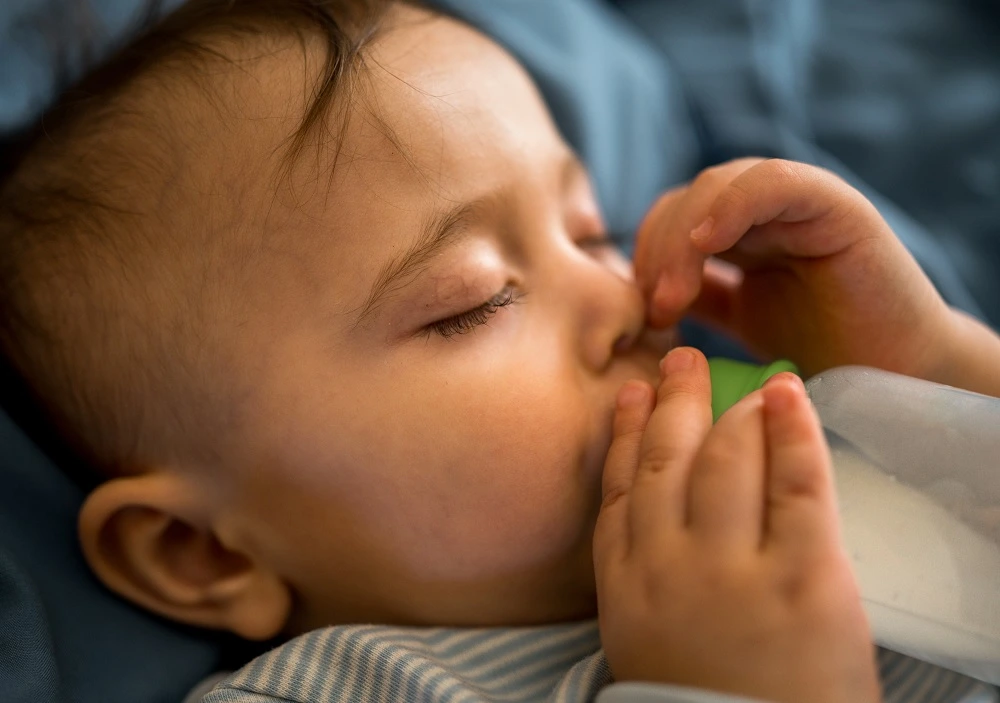 Bottle caries is a dental condition characterized by tooth decay in infants and young children. This occurs due to prolonged exposure to sugary liquids such as formula, milk, or fruit juice. The sugar in these liquids is used by bacteria in the mouth to produce acids, which can attack tooth enamel and lead to cavity formation.
How do babies develop bottle caries?

 CARIES
The primary cause of baby bottle caries is prolonged exposure to sugary liquids. This happens when a child falls asleep with a bottle, or when they drink from a bottle for an extended period throughout the day. Poor oral hygiene, lack of fluoride, and the use of a pacifier dipped in sugar or honey can also contribute to the development of baby bottle caries. Genetic factors may also increase a child's susceptibility to tooth decay.
Signs and symptoms
In the early stages, baby bottle caries may not show any visible symptoms. However, as the condition progresses, the following signs may appear: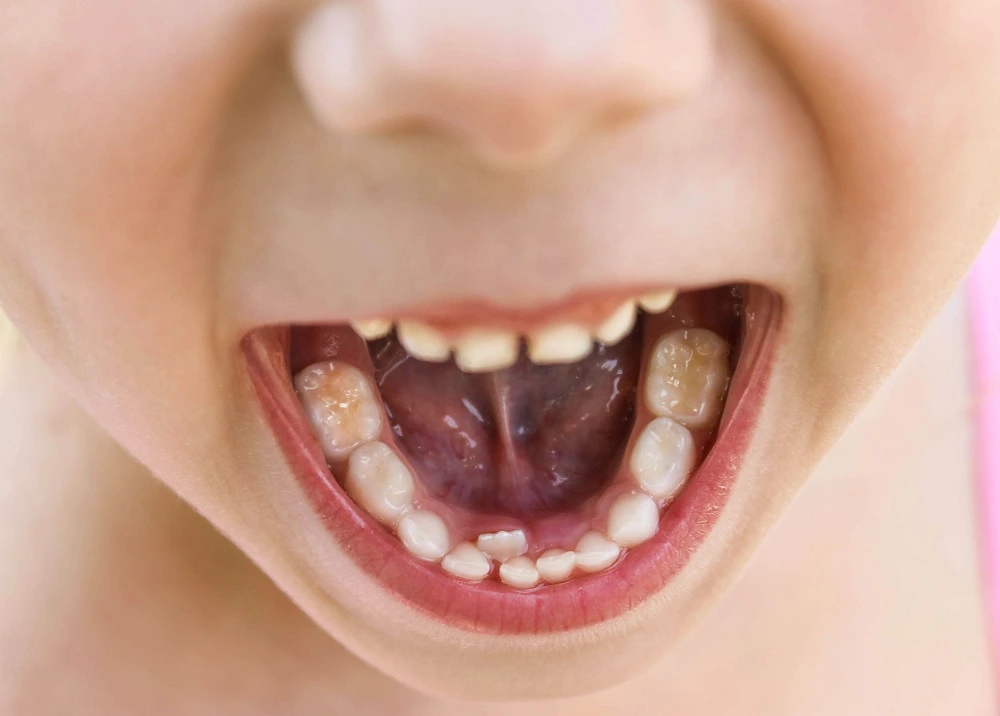 1. White lines or spots on the teeth
2. Black or brown spots on the teeth
3. Bleeding or swollen gums
5. Difficulty eating or chewing
6. Tooth sensitivity or pain 
If you notice any of these symptoms in your child, it is crucial to seek dental care as soon as possible. Early detection and treatment can prevent the condition from worsening and avoid unnecessary pain and discomfort.
Which surfaces are affected?

 CARIES
The most frequently affected surfaces are the visible surfaces of the anterior teeth.   However, posterior teeth may also be affected, and it is important to establish oral hygiene routines from the appearance of the deciduous teeth, as well as reducing the amount of sugars babies ingest in food, whether natural or processed.
Steps to prevent bottle caries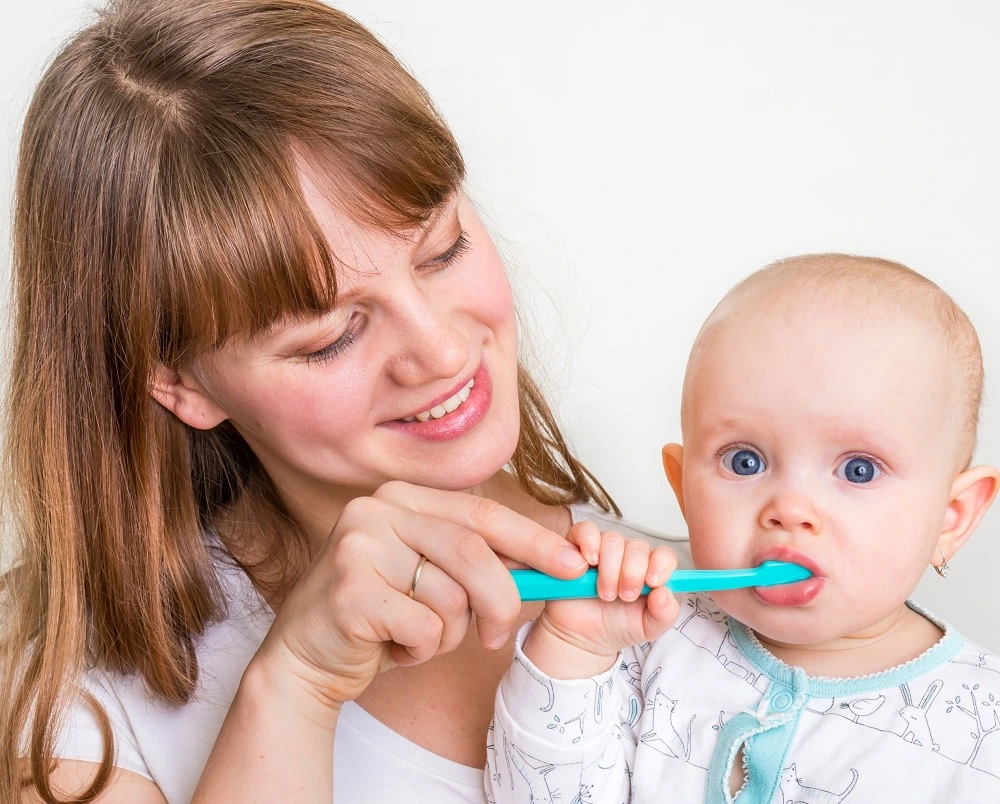 In babies up to 3 years of age, hygiene can be carried out by the parents or caregivers, with gauze or cloths that clean the surfaces of the teeth and gums, removing the remains of ingested food, always immediately after consumed them. Later when the infant has a certain ability to use a brush, they can resort to using these in appropriate sizes for their teeth.
Up to 6 years of age, children will need reinforcement in dental hygiene after brushing performed by themselves because they do not yet have the ability to do it properly. In the same way, the use of toothpaste is recommended from 3 years of age, the age at which the child is capable of spitting so as not to ingest remains of fluoride from toothpaste.
Fortunately, baby bottle caries is preventable. Here are some steps that can help you protect your child's dental health:
1. Clean your baby's gums and teeth regularly, even before their first tooth emerges. Use a clean and damp cloth to wipe their gums after feedings.
2. Do not put your child to bed with a bottle. If your child needs a bottle to sleep, make sure it only contains water.
3. Limit your child's intake of sugary drinks. Encourage them to drink water or milk instead.
4. Introduce a cup when your child is ready to move on from the bottle. This will encourage them to drink without relying on a bottle.
5. Teach your child good oral hygiene habits from an early age. Show them how to brush their teeth twice a day with fluoride toothpaste and floss once a day.
6. Schedule regular dental check-ups and cleanings for your child. This will help identify dental problems early and prevent them from worsening.
Conclusion
Baby bottle caries is a common dental problem in young children, but it is preventable. By taking simple measures to maintain good dental hygiene, limit your child's exposure to sugary drinks, and encourage good oral hygiene habits, you can help prevent baby bottle caries and ensure your child's dental health.
Contact Us

RIES
If you have any questions about bottle caries or other topics, you can contact us at Channel Island Family Dental as well as our Facebook page. We look forward to your visit and will make a timely diagnosis. Our dentists in Oxnard, Newbury Park, Santa Paula, Ventura, and Port Hueneme will be able to guide you towards the best treatment to take care of your health and return your best smile.
Bibliography

2. Centers for Disease Control and Prevention. (2020). Oral health: Preventing cavities, gum disease, tooth loss, and oral cancer.

https://www.cdc.gov/oralhealth/conditions/index.html