Last Updated on May 26, 2023 by Dr Gustavo Assatourians DDS
Can we use chlorohexidine as a mouth rinse? Chlorhexidine is currently one of the main antiseptics in widespread use in dentistry. It was discovered in research on malaria in the late 1940s within a group called polybiguanides that had a broad antimicrobial spectrum (1) (2). It is a chemical compound with high antiseptic power due to its activity in reducing the appearance of plaque, bacterial growth and minimizing the risk of producing gingivitis (inflammation of the gums).
It has a broad spectrum, that is, in a great variety of bacteria of different types and even with fungi and yeasts. Its release gives between 8-12 hours, actively guaranteeing the prevention of bacterial recolonization. It has a neutral pH which gives it easy use and handling by patients. In addition to being highly ionic, it can be found as chlorhexidine gluconate, which facilitates its high solubility in water. (3)
1. Who is recommended for chlorohexidine as a mouth rinse?
It is important to mention that, under normal conditions, chemical control of bacterial plaque does not replace mechanical control but is a complement. It is especially useful in specific people and/or in special situations such as a) when there is some difficulty to carry out a correct mechanical control, or it cannot be carried out, for example, in the elderly, the disabled, or after surgeries; b) in situations of high risk of caries development (patients with reduced salivary flow or carriers of orthodontic treatment) or periodontal diseases; therefore, these agents must meet specific characteristics such as: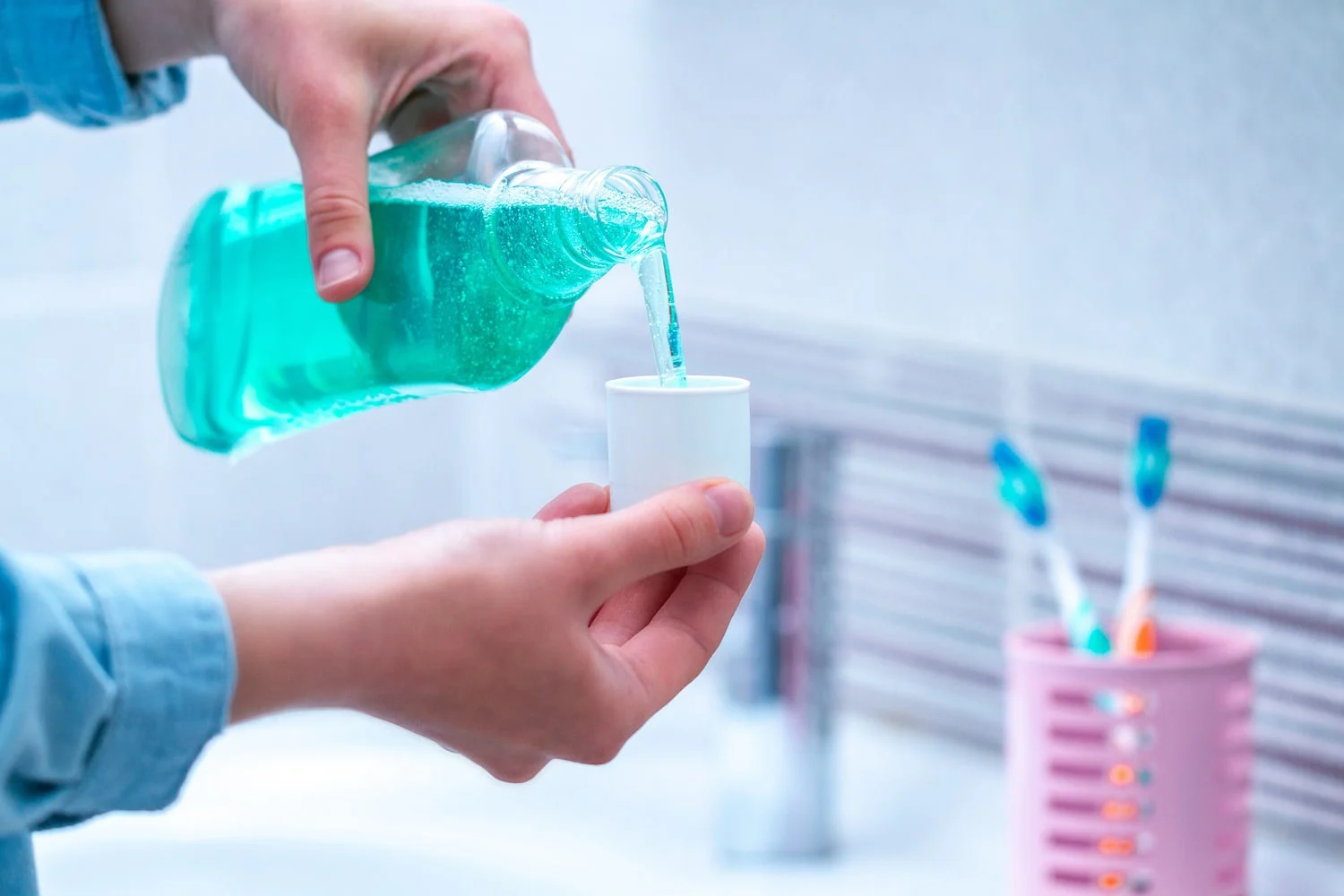 Specificity: ability to produce the effect by a single mechanism of action.

Efficacy or potency: the maximum ability to produce a dose-independent result.

Safety: property of an agent that does not produce adverse local or systemic effects.

Stability: ability to allow it to continue as designed and not be easily altered.

Substance: ability to adhere or release slowly to maintain the effect for a long time.

Easy to use.

Good cost/benefit ratio.
2. How does chlorohexidine as a mouth rinse work? 

The main mechanism of chlorhexidine mouthwashes is based on the displacement of calcium from the sulfate groups of the plaque. It thus disorganizes its structure, preventing bacteria from joining the acquired film. Its high substantivity (sustained effect of 8 – 12 hours) is because it is rapidly absorbed by the bacterial surface, thanks to its neutral and slightly alkaline pH. It binds to plaque bacteria, tooth enamel, and the acquired film that covers the tooth and is slowly released, producing negative effects on the bacterial cytoplasm and making it impossible for pathogens to survive. (3)
3. In which situations is recommended the chlorohexidine as a mouth rinse?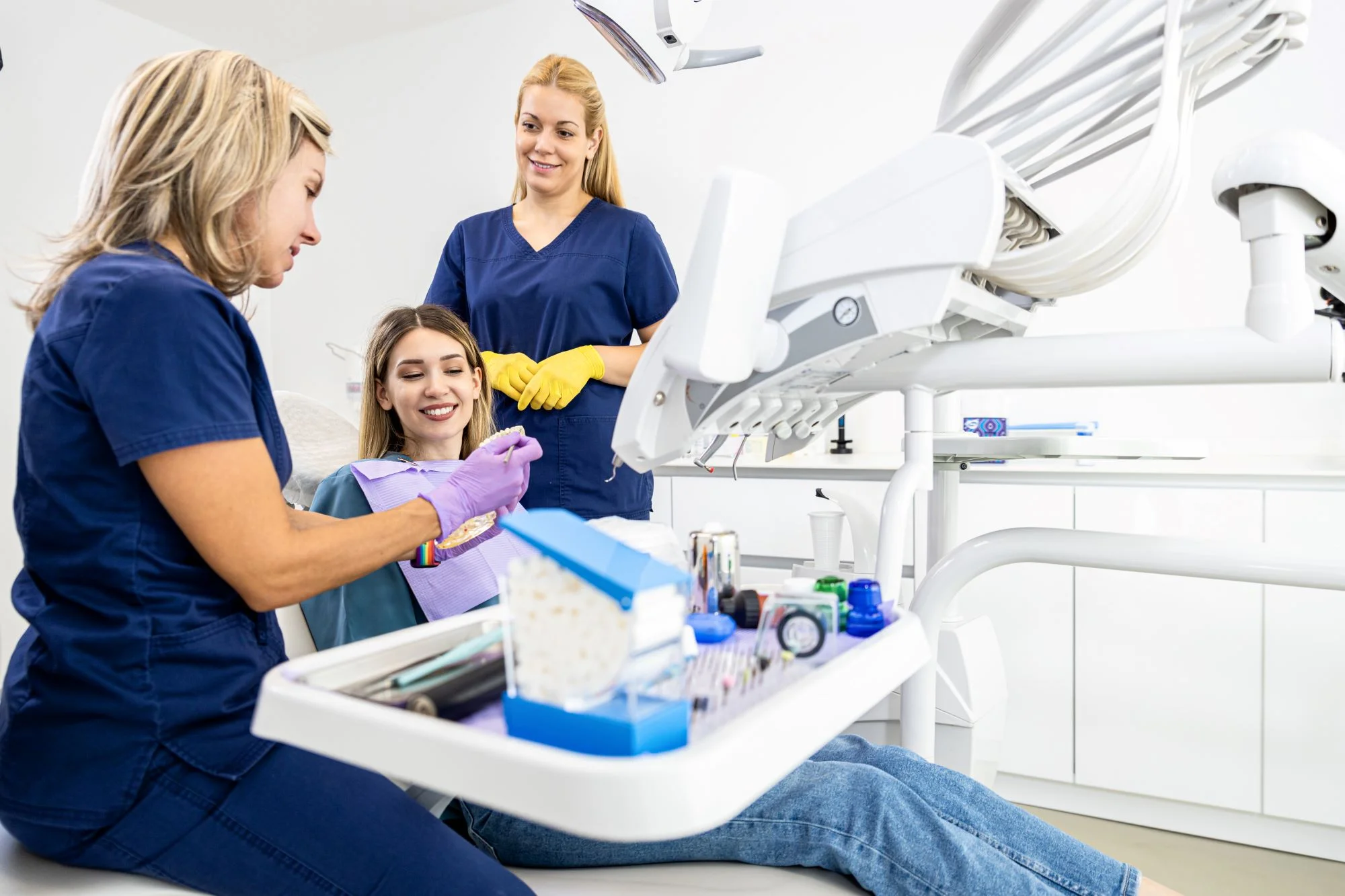 Adjunct to mechanical control of the oral biofilm

Prevention and treatment of gingivitis, periodontitis, peri-implant mucositis, and peri-implantitis.

Helper in scaling and root planing.

Patients at high risk of caries, root caries, and polycaries.

Pre and post-surgery

Its use in gel, associated with a surgical toothbrush, reduces the possibility of complications in the healing period and minimizes the risk of infections.

To reduce plaque formation and improve gingival health around implants.

After extractions, it reduces the risk of dry socket.

Before or during clinical prophylaxis, it significantly reduces inflammation and bleeding.

Patients Immunosuppressed with oral complications.

Patients undergoing radiotherapy or chemotherapy treatment.

To reduce the recurrence and severity of oral ulcers.

Patients with difficulties to perform correct mechanical hygiene (physical and mental limitations)

Inpatients medically compromised, to improve plaque control and to prevent complications (e.g. fungi and yeast)

In orthodontics to reduce plaque and improve gingival health.

Patients with removable prostheses.

Treatment of oral halitosis.
4. Dosage
The chlorhexidine mouthwash is recommended twice a day and hold for 30 seconds. Its use is not recommended in children under six years of age, and if accidentally ingested, it can cause nausea and vomiting. According to the indication of your dentist, this may vary depending on any of the symptoms mentioned above.
Chlorhexidine for topical application: use gauze or cotton to treat the desired area. Avoid contact with the eyes, ears, and mouth. If this happens, rinse immediately with plenty of water.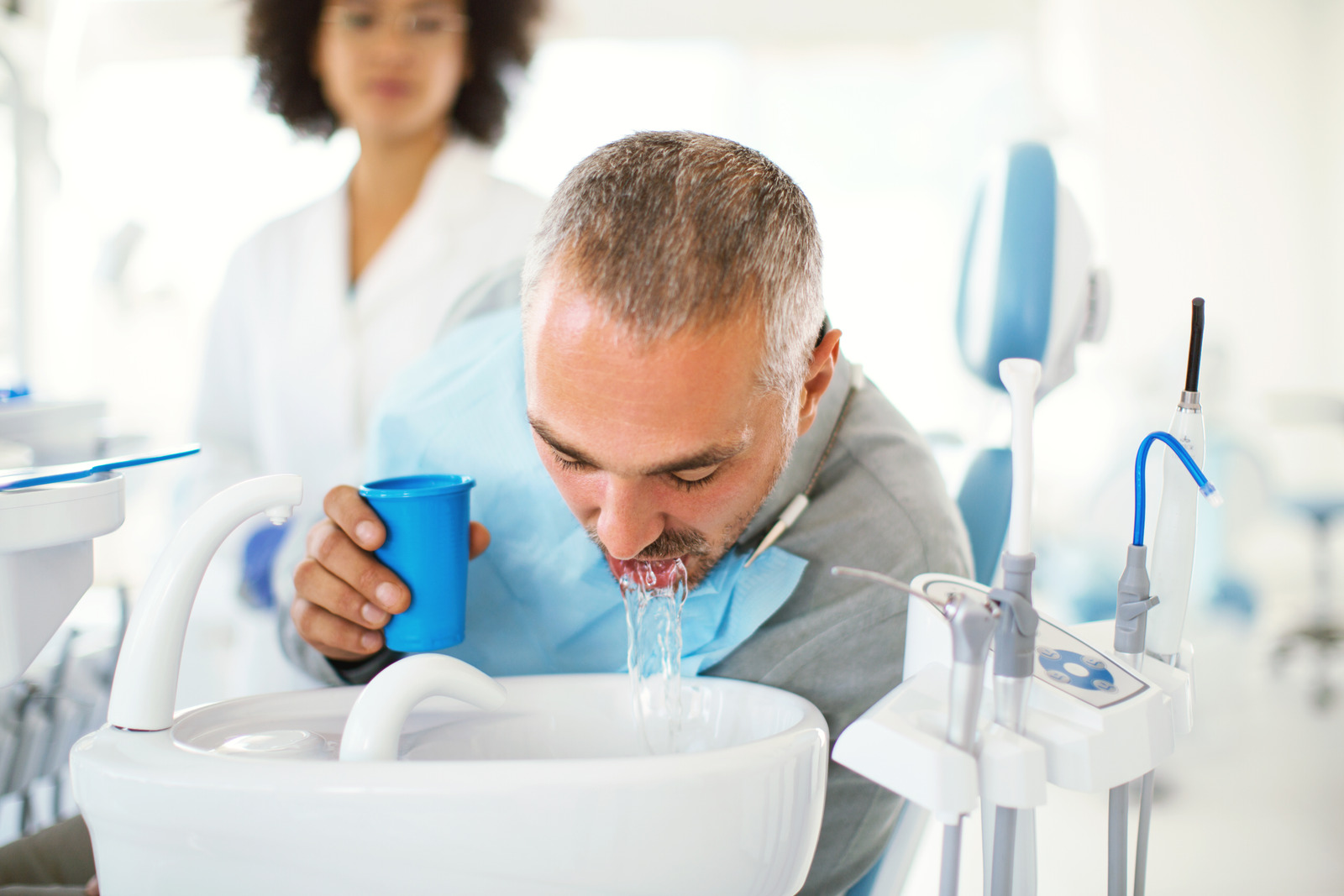 Chlorhexidine should be kept out of light, avoid extreme temperatures
Chlorhexidine is inactivated when using products containing fluorine and some excipients dentifrices, this is why it is recommended to wait 30 minutes for the use of a mouth rinse.
An advantage of its use is that it is not absorbed in the gastrointestinal tract, so accidental ingestion of the solution will rarely produce systemic effects or allergic reactions.
Prolonged use of chlorhexidine mouthwashes can cause different alterations such as:
Discoloration of the teeth and staining of the back of the tongue (given by its high reactivity and adsorption to the tooth surface and in general in the mouth) or reversible yellowish-brown coloration of the teeth, dental reconstructions, and the surface of the tongue (mainly due to the consumption of dark drinks). These changes in the color of the teeth can be caused by its chronic consumption, but are reversible utilizing prophylaxis or dental whitening treatment.

Patients treated with chlorhexidine oral rinses may experience taste disturbances. This effect diminishes with time and disappears entirely once the treatment is discontinued.

It is recommended to administer with caution in children from ten to eighteen years of age since it can cause inflammation of the salivary glands.

Allergic reactions are usually rare, and if you observe any change or different sign in the oral cavity, it is recommended to discontinue its use and inform your treating dentist.
Taking into account the above, it is always suggested that its use be guided by a dentist who determines what the indication for which its use should be, according to age and frequency, as well as the amount of rinse that should be applied for its treatment. If you require more information, you should consult your dental professional to guide your treatment individually and appropriately.
Contact us
If you have any questions about chlorhexidine as a mouth rinse or other topics, you can contact us at Channel Islands Family Dental as well as our page on Facebook. We look forward to your visit and we will make a timely diagnosis. Our dentists in  Oxnard, Santa Paula, Ventura, Newbury Park, and  Port Hueneme will be able to guide you toward the best treatment to take care of your health and give you back your best smile.
Bibliography
Dra Cristina Hernández, et. cabbage. Mouthwashes in Pediatric Dentistry. Dental Gazette. September 24, 2011 (internet) (consulted 05 Apr 2021) Available at: https://gacetadental.com/2011/09/colutorios-en-odontopediatra-indicaciones-contraindicaciones-efectos-secundarios-criterios-de-seleccin-y-protocolo-25441/

Torres D, Infante P, Serrena MA, Gutiérrez JL. Basic notions and clinical applications of chlorhexidine. Review and update. Rev Europ Odont-Estomatol 2004; 16 (6): 273-8.

Perio-AID. Perio-Expertise. The professional platform on periodontal and peri-implant diseases. (internet) (consulted 05 Apr 2021) Available at:

https://www.perioexpertise.es/perioaid/clorhexidina

Cuenca E, Manau C, Serra L. Preventive and Community Dentistry: Principles, methods, and applications. 2nd ed. Barcelona: Masson; 2004

IQB. Vademecum. CHLORHEXIDINE. August 2013. (internet) (consulted 06 Apr 2021) Available at: https://www.iqb.es/cbasicas/farma/farma04/c090.htm
TOP. Spanish Agency for Medicines and Health Products. TECHNICAL DATA SHEET PAROEX 1,2 MG / ML SOLUTION FOR MOUTH RINSE. (internet) (accessed 06 Apr 2021). Available in:

https://cima.aemps.es/cima/dochtml/ft/80642/FT_80642.html