Last Updated on: 21st November 2023, 10:21 am
Dental hygiene is essential to maintain solid oral health over the years and prolong the longevity of any restorations or treatments performed in the mouth. Using a toothbrush is not enough to keep the oral cavity clean since it cannot reach difficult areas, such as the spaces between the teeth or under dentures and dental appliances. For this reason, alternate attachments such as dental floss are used to achieve successful oral hygiene. In this article, you will find a guide on how to floss properly.
How to floss properly?
The basis of a good oral hygiene technique is to mechanically eliminate food debris and bacteria that may remain on the teeth, removing or sweeping them with items intended for this purpose. This practice is crucial for preventing issues like cavities, which can develop when oral hygiene is compromised. However, there are areas of difficult access, such as the spaces between the teeth where cavities can form, that the toothbrush cannot reach. Regular flossing and professional dental cleanings further aid in preventing cavities between teeth.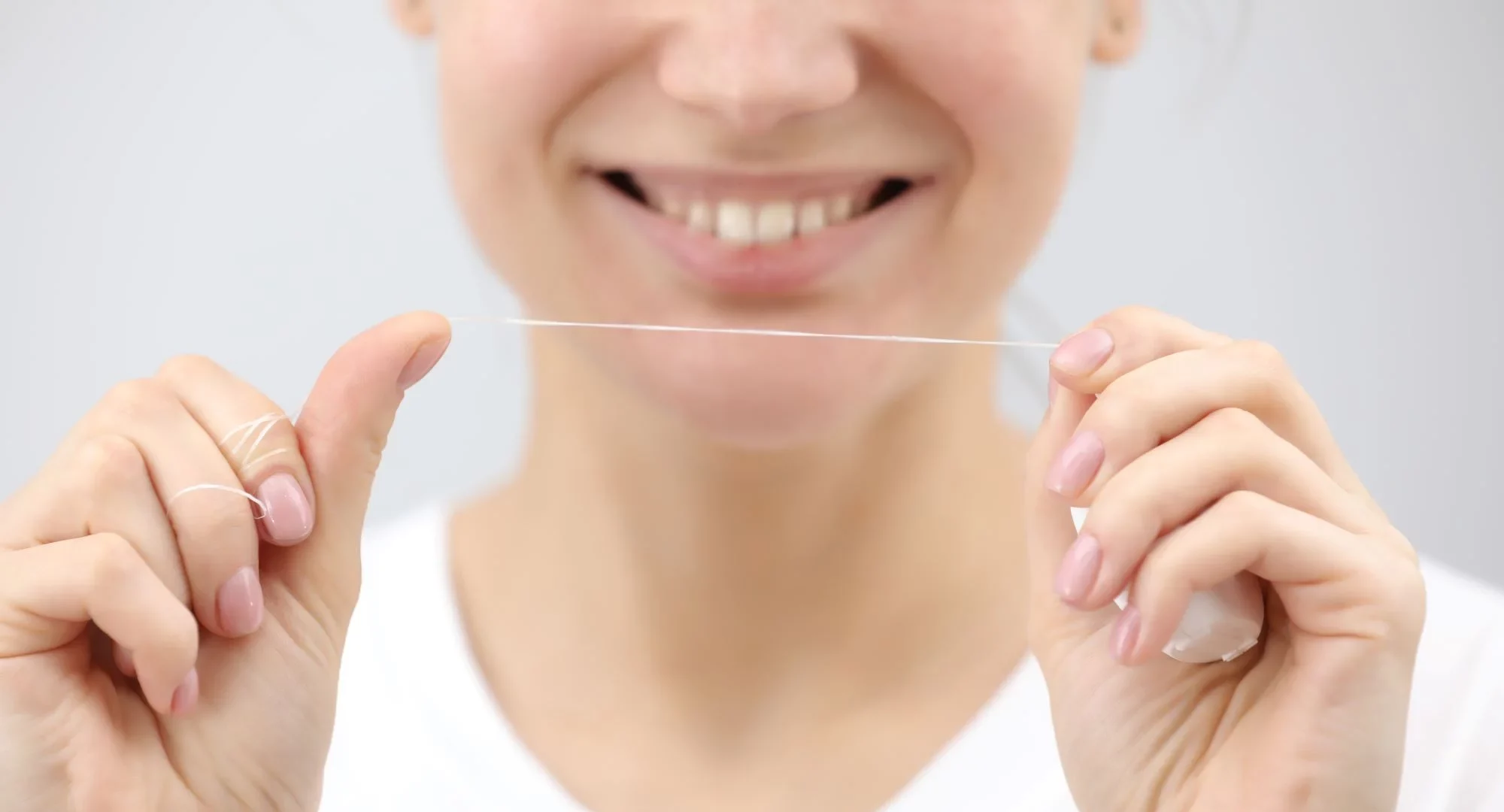 Mastering the proper technique for flossing is key to ensuring its effectiveness. Here is a simple step-by-step guide:
Preparation:

Start with about 18 inches of floss and wrap most of it around one finger, leaving a short length to work with.

Grip:

Next,  pick up the dental floss in one hand, turning more around the middle finger; in this way, we can release one side and pick up the other to be able to clean each tooth. When handling dental floss, we will always use the index fingers and thumbs of both hands.

 
Access: Gently slide the floss between the teeth, always pressing against the tooth, never against the gum. Respecting the triangle of gum between the teeth, form a "C" around each tooth and slide the floss away from the gums, thereby removing plaque and food debris.

For the upper part, place the dental floss from the index of one hand to the thumb of the other. Place the index finger pointing toward the interior of the mouth and pass the floss through each of the interdental spaces, cleaning the sides of both teeth.

For the lower part, we hold the dental floss between both index fingers.

Repeat:

In each space, the dental floss should be introduced at least twice, cleaning the surface of each tooth. Remember that the spaces between all the teeth must be cleaned, both the front and the back.

Be careful:

Pay special attention to the gum line, where plaque tends to accumulate. Don't forget to clean behind the back teeth.

Clean thread:

Use a clean section of floss for each interdental space, avoiding the redistribution of plaque.
When should you floss?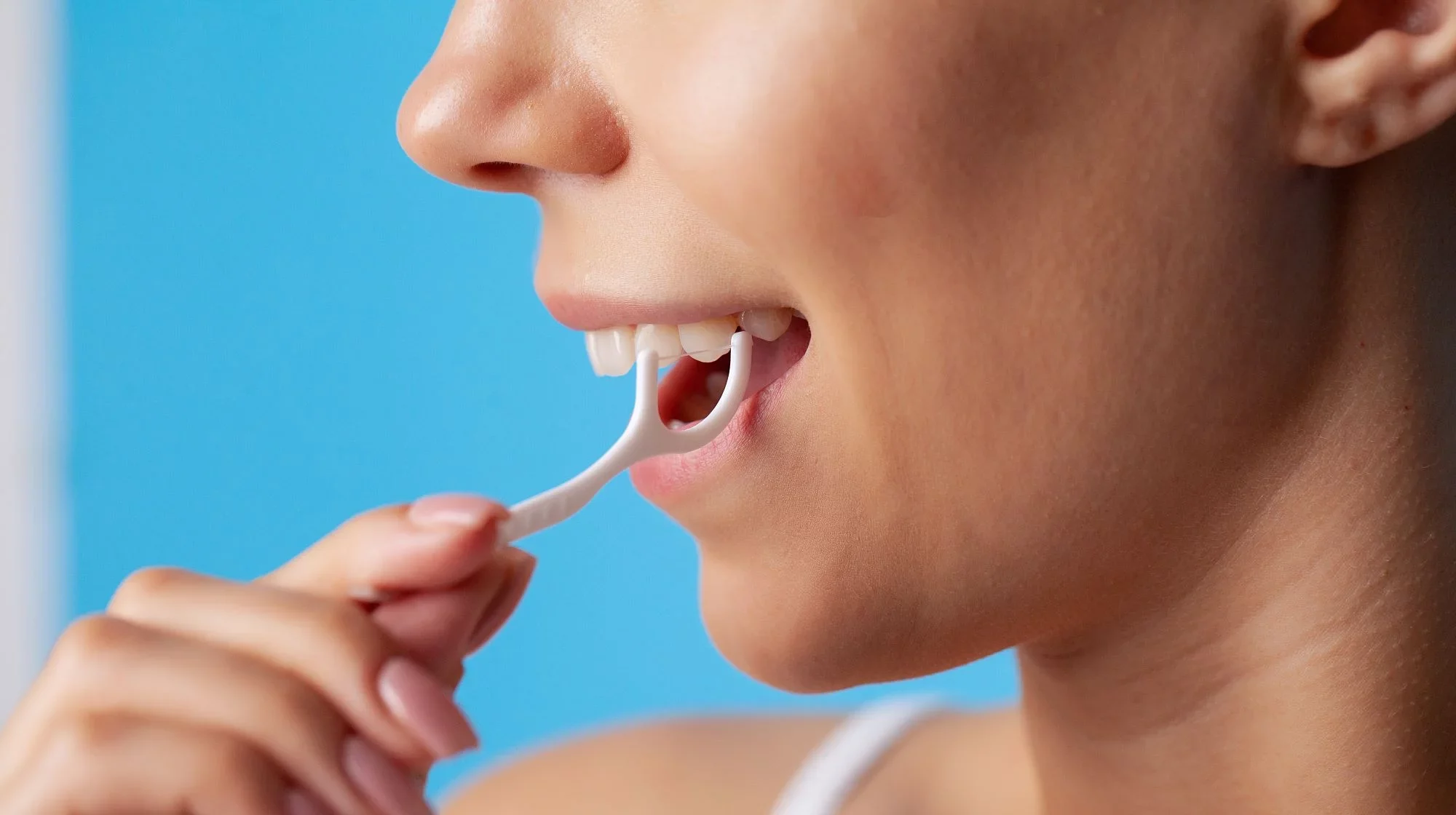 A daily flossing routine is a vital pillar of oral care. Ideally, it should be used at least once a day, preferably before brushing your teeth. Flossing before brushing helps remove food debris and plaque, allowing the brush to reach inaccessible areas. To learn more about how to use dental floss, you can check out this article.
What do I do if I have limitations in being able to floss?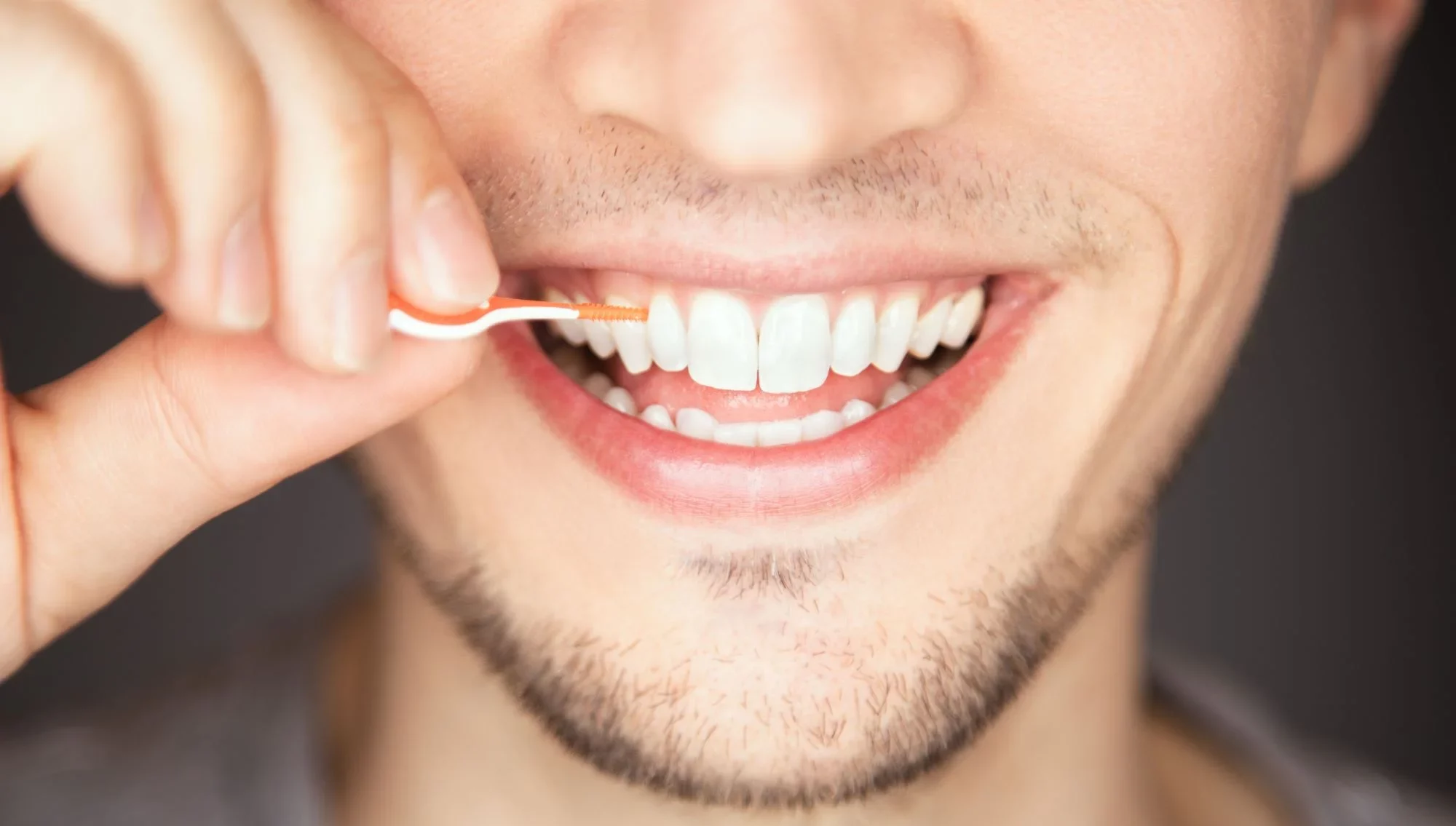 If you have difficulty flossing or are a caregiver for a person with reduced mobility, there are alternatives to consider:
Dental floss with handle:

Also known as floss with a handle, this type is a variant of conventional dental floss that has been designed to simplify the interdental cleaning process. It consists of a piece of dental floss attached to an ergonomic plastic handle, which allows better control and maneuverability during use. Flossing with a handle improves reach on posterior molars, the most distant teeth. It also reduces the chance of injury to the gums, as it prevents the floss from cutting or digging into the gum tissue

.

Oral irrigators:

These devices use a pressurized water jet to remove hard-to-reach food debris and plaque. They consist of a water tank and a nozzle that directs the water jet to the areas that need cleaning. It helps remove food debris, plaque, and hard-to-reach bacteria in the mouth.

Interdental brushes:

These are small and elongated devices that, with their thin and flexible bristles, glide smoothly between interdental spaces, thus removing plaque, food particles, and bacteria that may go unnoticed. They are manufactured in different sizes and shapes to adapt to the needs of each person. Their ability to reach hard-to-reach areas, such as the spaces between teeth and around orthodontic appliances, makes them an effective choice for preventing cavities and gum problems.
Other tools to make flossing easier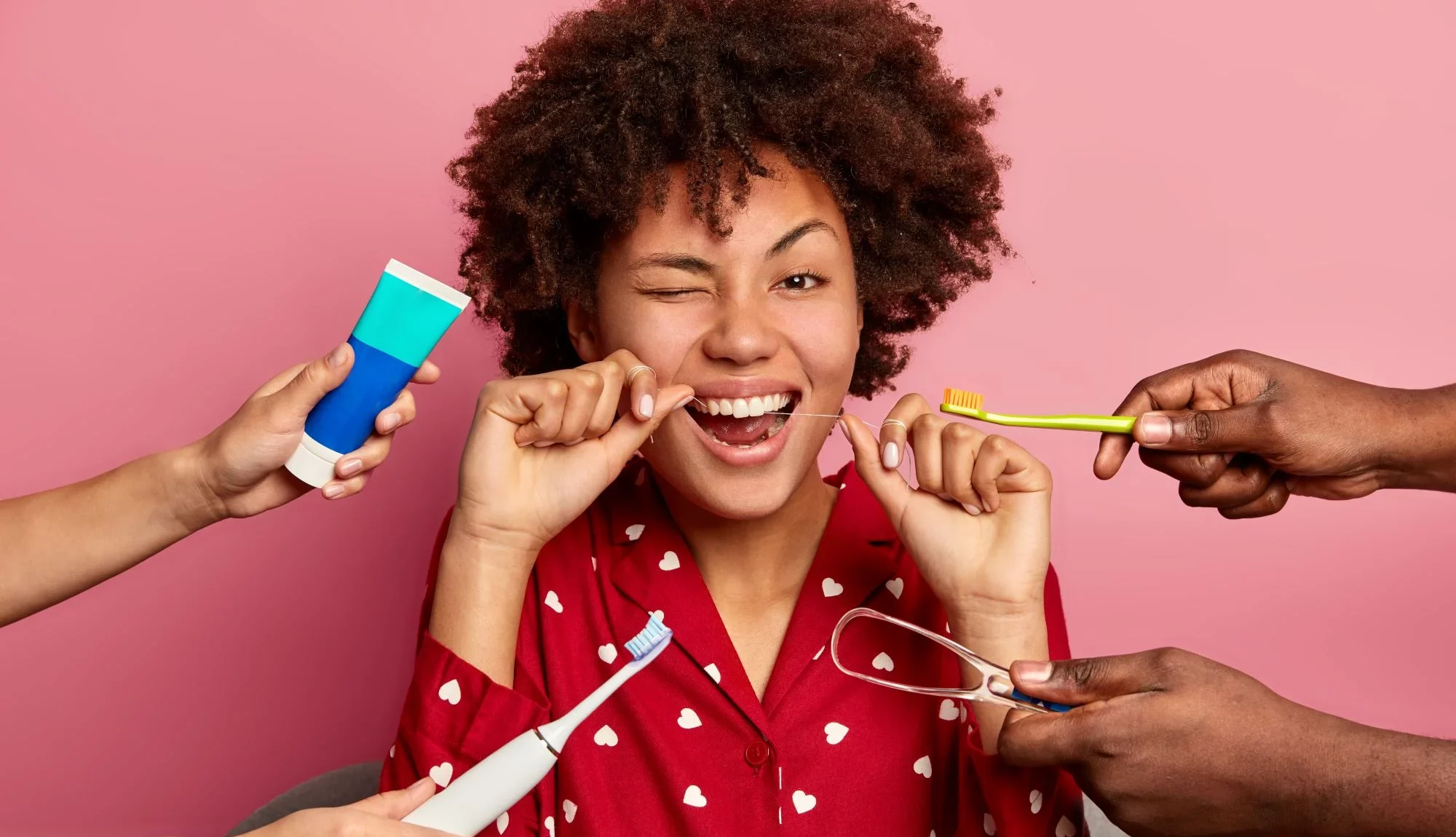 If you have difficulties flossing due to the presence of brackets, prostheses, or dental bridges, you can opt for any of the following options:
Waxed dental floss:

It is especially useful for people with brackets. Being harder, this type of floss slides more easily between teeth and appliances.

Dental hilum fillers:

Threaders make it easy to pass dental floss under bridges and wires. It contains an eyelet and a rigid tip, which helps to easily introduce the thread between the appliances and the teeth.

Superfloss:

It is a type of dental floss specially designed to meet the needs of those with braces, bridges, implants, or larger spaces between their teeth. It comes in the form of a pre-cut piece of floss with three key components: a stiff end, a spongy section, and a conventional floss section. The rigid ends facilitate access under bridges, wires, and appliances, while the spongy section acts as a "brush", ensuring the removal of plaque and food particles.
Gum Disease Prevention and Dental Health Tips
Proper and regular flossing not only contributes to a healthy smile but also prevents gum disease and cavities. Additionally, efficient plaque removal can help prevent bad breath. Here are some final tips for maintaining optimal dental health:
Keep a daily routine:

Spend time brushing and flossing each day.

Regular visits to the dentist:

Schedule dental exams and professional cleanings every 6 months.

Balance diet:

Eat nutrient-dense foods and limit sugars and refined carbohydrates.

Hydration:

Drink enough water to keep your mouth hydrated and reduce the growth of harmful bacteria.
In short, proper flossing is essential for complete oral hygiene. By mastering the proper usage techniques, choosing the right tools, and following a consistent routine, you'll be on your way to a radiant smile and first-class oral health. If you're interested in enhancing your gum care and establishing effective oral hygiene routines, I recommend taking a look at this informative article. Within this resource, you'll find valuable insights and guidelines on how to properly take care of your gums, ensuring their health and well-being.
Frequently Asked Questions
Contact Us
If you have any questions about this or other topics, you can contact us at Channel Island Family Dental as well as our Facebook page. We look forward to your visit and will make a timely diagnosis. Our dentists in Oxnard, Santa Paula, Ventura, Newbury Park, and Port Hueneme will be able to guide you toward the best treatment to take care of your health and return your best smile.
Bibliography