WHAT IS TEETH WHITENING ABOUT?
Laser Teeth Whitening With Zoom
Whether driven by aesthetics or other motivations, the desire for a flawless, radiant, and white smile is on the rise. This goal can now be attained, thanks to the progress in dental technology. Several procedures are available to enhance our smiles, with two prevalent and in-office teeth whitening methods at the forefront. While these two treatments share commonalities in their approach, distinct factors set them apart.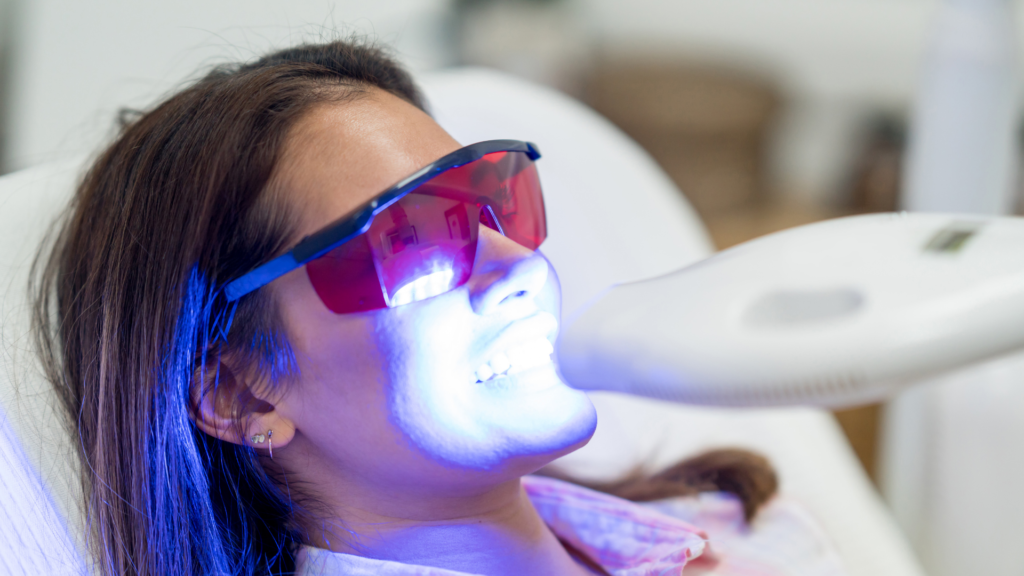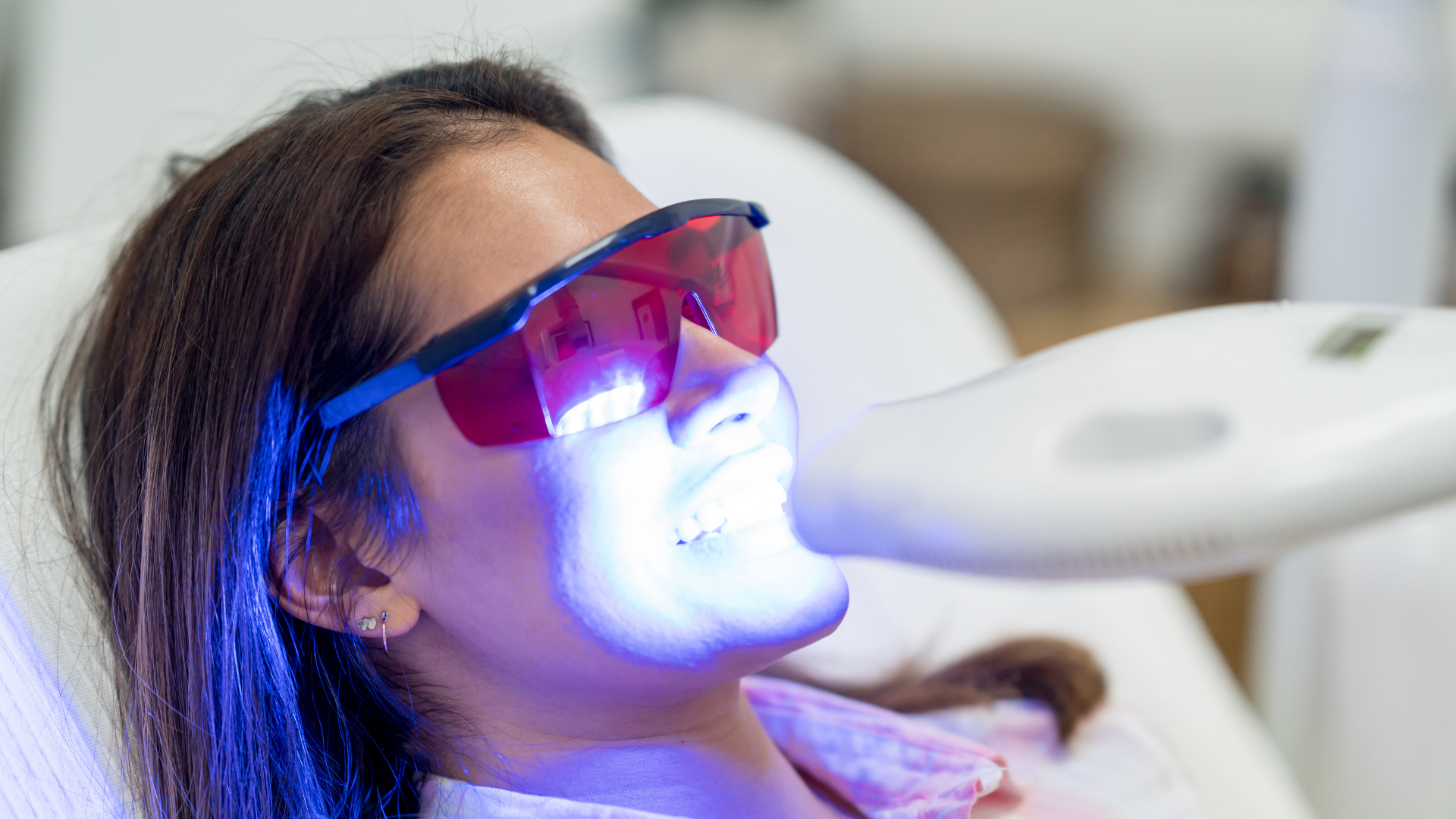 WHAT TREATMENTS EXIST TO LIGHTEN TEETH?
In contrast to at-home whitening strips, the two prevailing in-office treatments are laser teeth whitening and Zoom teeth whitening. These procedures follow a similar path, relying on the use of a whitening agent approved by the American Dental Association. This agent is usually in gel form and, with the aid of light-emitting devices, helps it permeate the tooth enamel to effectively remove surface stains and brighten the teeth. For instance, laser teeth whitening incorporates the use of laser light, triggering an oxidation reaction.
Laser teeth whitening typically requires about an hour per session, making it a suitable option when dealing with specific cases where only one, two, or a few teeth exhibit darker shades. Consequently, the treatment is focused solely on these particular teeth, with the application of the gel and light administered individually for each, extending the duration of the in-office procedure.
If your objective is to enhance the color of all your teeth simultaneously, it is advisable to consider Zoom teeth whitening. This approach entails the simultaneous application of gel and light to all your teeth. While a significant number of individuals observe positive changes in tooth color after their initial session with either whitening method, the duration of these outcomes depends on the post-treatment dental care practiced by the patient. Teeth typically become more vulnerable to staining over time, prompting the need for additional sessions at specific intervals to achieve and maintain the desired shade.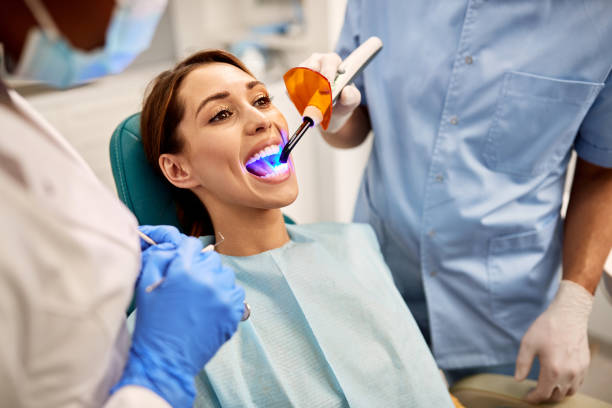 WHAT IS ZOOM TEETH WHITENING?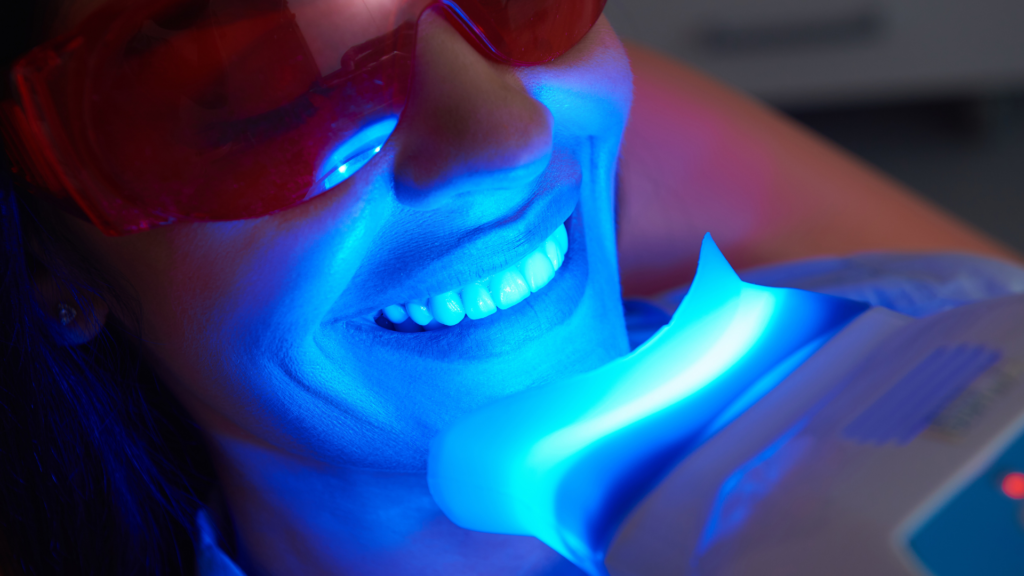 Zoom teeth whitening is a dental procedure conducted within the dental office by qualified professionals. It is recommended for patients seeking to enhance the color of their teeth, particularly if they have developed a noticeable yellow tint over time due to factors such as the aging process, frequent consumption of staining foods and beverages, or lifelong habits affecting tooth color. This process entails the use of a safe and effective acid, which, when activated with a specialized light, triggers a chemical reaction on the tooth's surface, resulting in a lightening effect.
HOW IS ZOOM TEETH WHITENING PERFORMED?
Zoom teeth whitening operates through a straightforward mechanism. Initially, your dentist takes precautionary measures by applying a protective shield to safeguard your gums and lips, ensuring their safety and preventing any potential irritation caused by the hydrogen peroxide-based gel. This gel serves as the active agent responsible for directly brightening and whitening the tooth's surface. The gel remains in place on the tooth's surface for roughly 15 minutes, during which a specialized light is employed to generate heat. This heat-induced reaction activates the gel, enabling it to carry out its designated function.
Differing from laser teeth whitening, where a single tooth is treated at a time due to the focused laser beam, Zoom whitening utilizes both the gel and the light to concurrently address all teeth. As a result, the procedure ensures a uniform and consistent impact on all teeth, applying the same intensity to each.
Following this time frame, the gel is removed, revealing immediate results. For a more remarkable and long-lasting transformation, it is suggested to opt for a minimum of three 15-minute sessions of Zoom teeth whitening, totaling 45 minutes of treatment. With each session, you'll observe a significant enhancement in the hue of your teeth.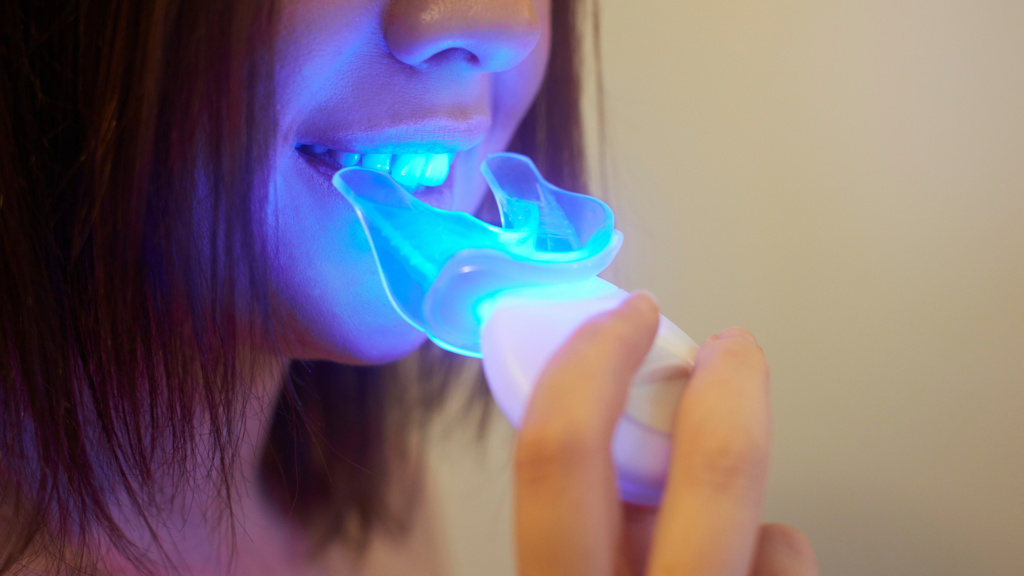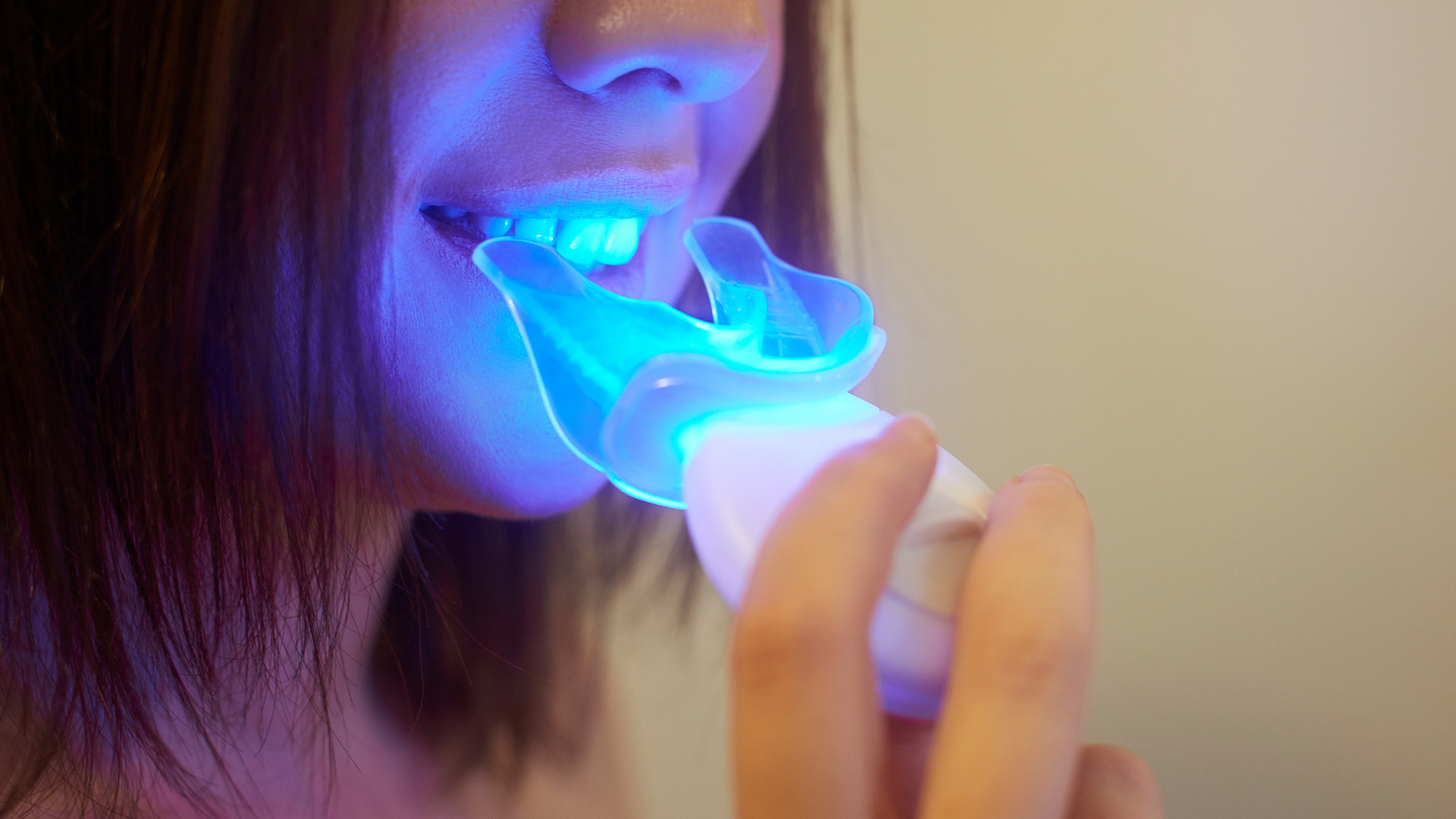 DIFFERENCES BETWEEN LASER AND ZOOM WHITENING
Zoom has become a widely favored method for teeth whitening, and, like laser whitening, it is carried out in a dental clinic by licensed dentists. Nonetheless, variations exist between these two procedures:
Application

: Zoom teeth whitening stands out from laser whitening by its ability to treat all teeth simultaneously, providing instant enhancements to the overall smile. Laser whitening, on the other hand, is more suited for targeted applications, addressing cases where specific teeth exhibit substantial color variations and require brightening.

Time

: Zoom whitening procedures are brief, typically around 15 minutes, as opposed to laser whitening, which can extend up to one hour. The variation in duration is attributed to the methodology of laser whitening, which treats individual teeth requiring whitening, addressing them individually.

Speed

:

Research conducted under the American Dental Association's purview demonstrates that Zoom whitening delivers quicker results in contrast to laser whitening. These results become apparent following the very first session.

Effects and tolerance: As Zoom whitening offers a faster and more potent solution than laser whitening, it's significant to acknowledge that certain patients might experience dental sensitivity to temperature shifts after completing their Zoom whitening sessions. 
Safety

: both treatments use safe products and equipment endorsed by the

American Dental Association

, but they should be applied only by specialists in the dental office. However, care must be taken  during and after the treatment. Remember that whitening should be performed only on healthy teeth, so before whitening, your dentist will require a complete examination; any cavities due to decay or other conditions should be fixed before the whitening begins.

Care

: If you desire results that stand the test of time, it's worth considering that post-whitening treatment, your teeth are more prone to staining than under typical circumstances. It is, therefore, recommended to abstain from consuming substances that could lead to teeth discoloration, especially within the first week. This entails avoiding the intake of items such as wine, coffee, tea, dark or intensely colored soft drinks, as well as brightly colored foods, snacks, and sweets.

Effect

: Laser teeth whitening and Zoom treatments outshine home remedies, yet their efficacy can differ from person to person. Factors affecting the results include the gel's potency, the type of stains that require treatment, and the patient's compliance and comfort during the process. Typically, both procedures excel at tackling brown and yellow stains, but gray discolorations induced by factors such as trauma or tetracycline usage may be unresponsive to these whitening methods. In such cases, alternative options like crowns or veneers become necessary.

Sensitivity

: The issue of sensitivity is also noteworthy. Your dentist may propose the use of pain-relief options to mitigate this concern. All of these factors will influence the ideal timing for the treatment, ensuring that patients adhere to the guidance provided.

Supplements

: Your dentist might recommend the occasional use of at-home whitening trays to extend the longevity of the whitening effect.

Duration

: It's important to keep in mind that regardless of the whitening method you opt for, the effects are not permanent, and many individuals may require a touch-up treatment every six months.
Dental Insurances We Accept