Last Updated on: 30th May 2023, 10:32 am
PROSTHODONTICS PROSTHODONTICS 
Any word ending in 'ontic' means 'to do with the teeth'. The term prosthodontics is a combination of 'prosthesis' and 'odontics'. Prosthodontics is a dental specialty recognized by the ADA (American Dental Association) and the area that concentrates mainly on dental prosthetics. ADA defines prosthodontics as "the dental specialty pertains to the diagnosis, treatment planning, rehabilitation, and maintenance of oral function, comfort, appearance, and health of patients with clinical conditions associated with missing or deficient teeth and/or oral and maxillofacial tissues using biocompatible substitutes."
Who is a prosthodontist?

PROSTHODONTICS 
The term "prostho" means replacement while "dontist" means dealing with teeth.  Elementally, prosthodontists are recognized dental experts, who deal with any kind of replacement of the  teeth and oral tissues.  This can vary from a single tooth, multiple teeth, or all the teeth and soft tissues in the cavity. Although many certified dental professionals can do some of these treatments, prosthodontics are the dental specialists dedicated to this type of dental care.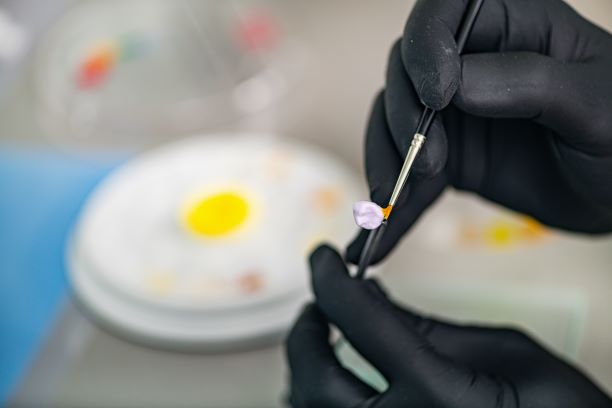 After completing four years of dental school, a prosthodontist has to go through three years of extended training in several areas of restorative dentistry, which includes dental implants, crowns, bridges, complete dentures, partial dentures, esthetics, occlusion, and facial and dental birth developmental defects. Prosthodontists are also trained in the technical and technological aspects of laboratory fabrication of complex dental prosthetics and the complex restoration of dental and facial esthetics.
What does a prosthodontist do?

PROSTHODONTICS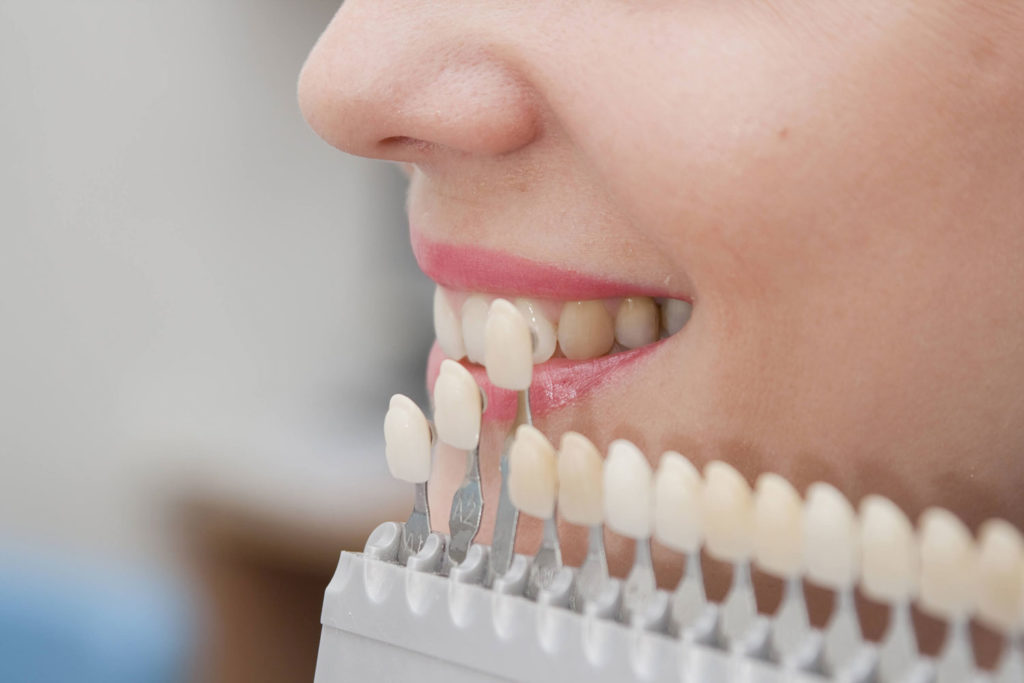 As the name suggests ("prosthesis" = replacement or attachment, "odont" = tooth), a prosthodontist plans and carries out procedures to replace missing natural teeth, in part or in full, with biocompatible substitutes. Some of these treatments include:
Porcelain veneers

— Veneers are wafer-thin shells of ceramic material that cover the front surfaces of the teeth. The tooth surface is prepared by removing very small amounts of enamel – the outer layer of teeth. Veneers provide a great change in appearance with a slight or minimal procedure. Veneers are most commonly used to change  size, shape, color or to close minor gaps in between the teeth.

Crowns

— Artificial covers commonly known as "caps" are the type of prosthesis that replaces the entire visible surface of a tooth above the gum line. Crowns can be fabricated of metal, porcelain fused to metal, or all-ceramic (porcelain). Crowns are most often required after a root canal procedure to repair a fractured part of the tooth or to replace a broken or misshaped tooth. The crowns are cemented to a prepared natural tooth with intact roots.

Fixed Bridges

— A fixed bridge is the tooth-replacement method in which healthy teeth are used as an abutment on either side of the gap to support one or more artificial teeth.  A fixed bridge is a series of linked crowns and fabricated as a single unit, which is then attached to the prepared abutment teeth. Fixed bridges need special attention and cleaning to preserve these otherwise healthy abutments. Bridges are commonly used tooth replacement method but sometimes the abutment teeth need a root canal treatment to act as supporting teeth.

Dental implants

— Dental implants are used as a replacement method when it's necessary to replace the whole tooth, which includes both the root as well as the crown. Implants are structures made of titanium metal inserted into the jawbone during a minor surgical procedure. The screw-like structure of a dental implant fuses with the jawbone, providing solid anchorage for the crown. Implants can be used to replace single or multiple missing teeth or to support a complete denture. At Channel Island Family Dental Office, our implant specialists usually perform implant placement surgery, and the crown structure is designed and placed by prosthodontists.

Dentures

—Different types of dentures are available such as full, partial, and implant-supported. Dentures help in improving mouth esthetics as well as restoring functionality by replacing missing teeth. It takes time for the patients to adapt to dentures; they need an adjustment period and may be uncomfortable in some conditions.
Contact Us

PROSTHODONTICS
At Channel Island Family Dental Office, our prosthodontist collaborates with all members of the dental team, including other dental specialists from general dentists and dental hygienists to laboratory technicians. With thorough consultation and close collaboration, our prosthodontist at Channel Island Family Dental Office, dentist in Oxnard,Newbury Park, Santa Paula, Ventura, and Port Hueneme provides patients with a customized treatment plan and alternative options, explaining the advantages, disadvantages, prognosis, risks, and time involved.
We provide a wide range of dental services at our various branches. Improve your smile and health with us. Feel free to call and book your appointment today with our dentist.
PROSTHODONTICS PROSTHODONTICS